16/01/2018
AB Competence Centre: a special year behind us
AB S. A. Competence Centre offers theoretical training courses and practical workshops on the latest IT technologies, as well as competence qualifications. The year 2017 was full of events organised with both partners and end customers in mind. The 112 training sessions were attended by 1 170 participants, while 1 600 participants took part in 68 webinars organised by the AB Competence Centre. Below is a brief summary of the last 12 months.
IT Night – a new point on the event map in Wrocław
One of the most important happenings was a new and innovative series of events – the IT Night (www.nocit.pl), which is addressed to persons professionally connected with IT, such as IT departments employees, network administrators and data storage experts, representing companies, institutions, offices, hospitals or universities.

 The nine editions of the IT Night, with programmes combining presentations and practical workshops concerning IT solutions developed by the partner of the event, brought together almost 600 IT professionals.
"Ever since we got the idea to organise the first IT Night, we wanted to avoid becoming yet another industry meeting. Now we know that our proposal was well-received, as it became an important point on Wrocław event map. We are also constantly striving to develop and grow further by inviting new partners to work with us. The next editions took place at a new venue – the iconic Barbara Bar, which was recently modernised. It is the perfect opportunity to present ultra-innovative solutions in a comfortable atmosphere", said Bartłomiej Bojarski, Business Unit Manager Presales & Solution Design at AB S.A.
AB Competence Centre with Pearson Vue authorisation
The newly acquired status of an Authorised Pearson Vue Examination Centre enables AB S.A. Competence Centre to carry out international IT certification exams for Microsoft, Cisco, HPE, Dell, EMC, VMWare, Juniper, Veem, Citrix, NetApp and many more. The complete list can be found at http://www.ab.pl/r/1039). Additionally, the Centre will also offer exams improving qualifications in the field of accounting, controlling, HR, management and other areas.
The main benefit of obtaining a Pearson VUE certificate is the possibility to receive a document confirming the professional qualifications and competencies obtained, which is honoured by employers all over the world, especially these days, since certified competencies and skills are highly valued.
Pearson VUE is a professional test provider for users around the world, allowing them to obtain a wide range of certificates and authorisations. The company is a subsidiary of Pearson plc, the largest commercial organisation providing tests for examination centres in the world with over $8 billion in profits, and has more than 3,400 Authorized Examination Centres worldwide as a leader in conducting exams for the IT industry and beyond.
Year of cloud competencies
During technical workshops conducted as part of Microsoft Azure training courses in Chorzów and Wrocław, AB Competence Centre engineers presented the subject of cloud technologies and a variety of topics concerning the use of the Azure portal, its management, configuration and use of virtual networks and data migration to the Microsoft cloud solution.
"Cloud solutions dynamically conquer the market; therefore; our goal is to build strong Microsoft cloud competencies among our Partners. For the experts who already have experience in using Enterprise technologies, we have prepared a series of training sessions, starting with an introductory webinar, which introduces the subject of Microsoft Azure, as well as five webinars preceding the hands-on-labs workshops, preparing the participants to deal with issues mentioned during the workshops. The series was complemented with five additional workshops, which guided the participants through various aspects and use cases for Microsoft Azure. We are certain that extensive and diverse forms of training resulted in significant increase of the awareness of business opportunities brought by using cloud technologies in companies and enterprises", said Bartłomiej Bojarski.
 Webinars – a 2017 hit
Taking into account the interest, training courses in the form of webinars were a best-seller in the last year. More than 1,600 participants took advantage of our offer of product and technology training courses (including cloud, network and storage technologies) by brands and suppliers such as: Microsoft, Dell, Sophos, Aruba, FUJITSU, LENOVO, HPE. The success of this form of training can be attributed mainly to their availability and interactivity – this kind of seminars allows for two-way communication between the host and its participants, using virtual tools. In the era of flexible activity planning, partners highly appreciate this form of training.
What will 2018 bring us?
The latest IT technologies are developing and growing at a rapid pace. AB Competence Centre responds to new trends and adjusts its offer to its partners' expectations. A wide portfolio of training courses for the coming months is already available today at www.ck.ab.pl. These include both practical workshops and webinars, certified by the world's largest IT manufacturers and suppliers.
The IT Night meetings will continue. The series has already gained many faithful participants, IT practitioners, as well as enthusiasts of IT and modern technologies. Its unique formula, combining practical lectures and workshops with informal networking atmosphere, was very well received by the participants of last year's nine editions.
      The AB Competence Centre also works on tailor-made training courses for partners and end customers. These are events which are planned and carried out by the Centre's team of experts and engineers in cooperation with clients, covering topics connected with products, technology and cloud-based services. Last year has shown that they are very popular, so they will be developed further this year.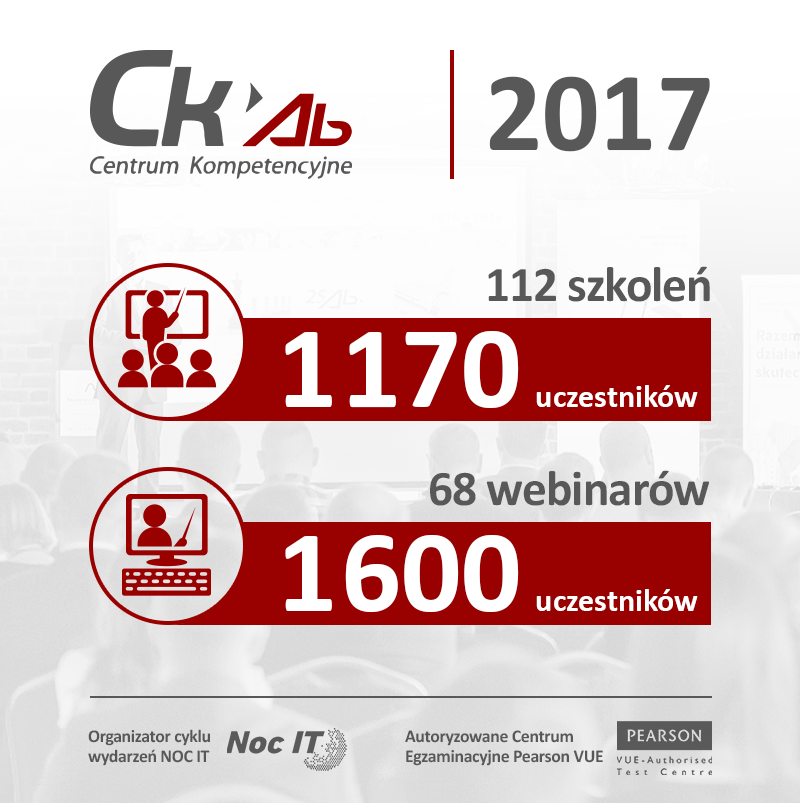 ---